What's driving the strategy of US contact centers?
It is fascinating and instructive to look over the findings of recent research into the strategic priorities of contact centers in the United States.
When such contact centers were asked to assign an importance score to various drivers for strategic contact center change – with a zero score indicating a "very unimportant" factor, and 100 a "vitally important" one – customer satisfaction unsurprisingly achieved the highest average score, of 70.
Looking at the below rundown of drivers for strategic contact center change ranked by score, the next three highest-ranked are especially interesting: agent attrition (64), new technologies (55), and reducing service costs (46).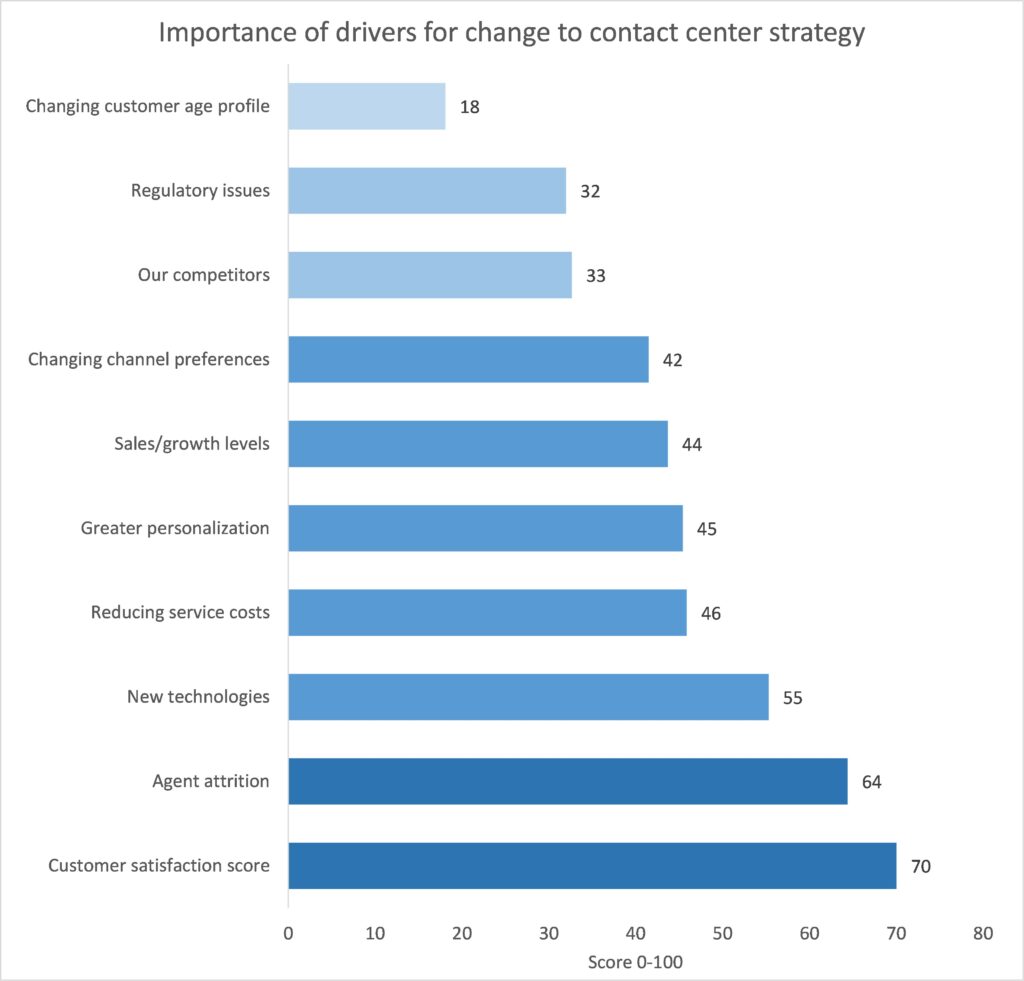 At a time when recession is looming and cost pressures are already high, contact centers across the US are clearly entering an era that will necessitate them doing more with less.
Alongside this factor, we are seeing ever-greater technological advancements, so it seems probable that in the months and years to come that businesses will look to move more of the work where human agents don't add extra value towards automated self-service.
Do the top drivers for change differ between contact center sizes?
For the purposes of the aforementioned US contact center research, the sizes of the participating contact centers were also recorded. This allowed for the findings of the survey to be organized by contact center size, and it is insightful to see the differences and consistencies across the three contact center size bands of 'Small' (<50 seats), 'Medium' (50-200 seats), and 'Large'. (200+ seats).

Contact centers in all three of these size bands regarded customer satisfaction as the most important factor driving their strategy, while agent attrition levels were consistently ranked as the second most important factor.
There is less consistency apparent in prioritized strategic factors among different contact center sizes as one works down the list. It is clear, for example, that medium and large-sized contact centers place greater emphasis than their smaller counterparts on a perceived need to reduce service costs and the management of customers' changing channel preferences.
Meanwhile, the fact that agent attrition levels rank as the second most important driver for change across all three size categories underlines how inevitable it is that technology will be used to an increased degree in order to counteract this concern.
To discover more insights like these from the latest US contact center research, readers are encouraged to download our "2023 US Contact Center Decision-Makers' Guide", which draws upon polling conducted among hundreds of organizations around the country.