How frequently are call centre agents genuinely polite and friendly?
It might seem a reasonable assumption that customers who reach out to a call centre should be able to expect politeness and friendliness from the agent that they are put in contact with – and of course, it is.
Indeed, research indicates that this is an especially high priority among many young customers who do not have much experience in talking to organisations, and who therefore often appreciate the extra reassurance.
Assessing complaints about call centres or agents, versus the wider business
An issue that arises on the subject of this aspect of a call centre's service, however, is that it is a very difficult process to gather reliable statistics on whether agents are, in fact, polite and friendly (as well as empathetic).
So, here at ContactBabel, we chose to investigate this element of call centre operation – and customer experience – by looking at the numbers of complaints received about call centres, and whether those complaints were about the agent or call centre, or instead the broader business itself.
After all, if a particular complaint was centred on the agent or call centre, this suggests that the cause of such a complaint could be an impolite agent. But if the specific complaint is focused on the wider business, this indicates that the source of the customer's disgruntlement is likely to be something beyond the agent's immediate control, such as a late delivery, or the customer having received the incorrect product.
With that in mind, the below chart will represent instructive reading for many an organisation. It shows the change, over the course of more than a decade, in the proportion of calls that are complaints, and whether the complaint was about the contact centre or the wider business.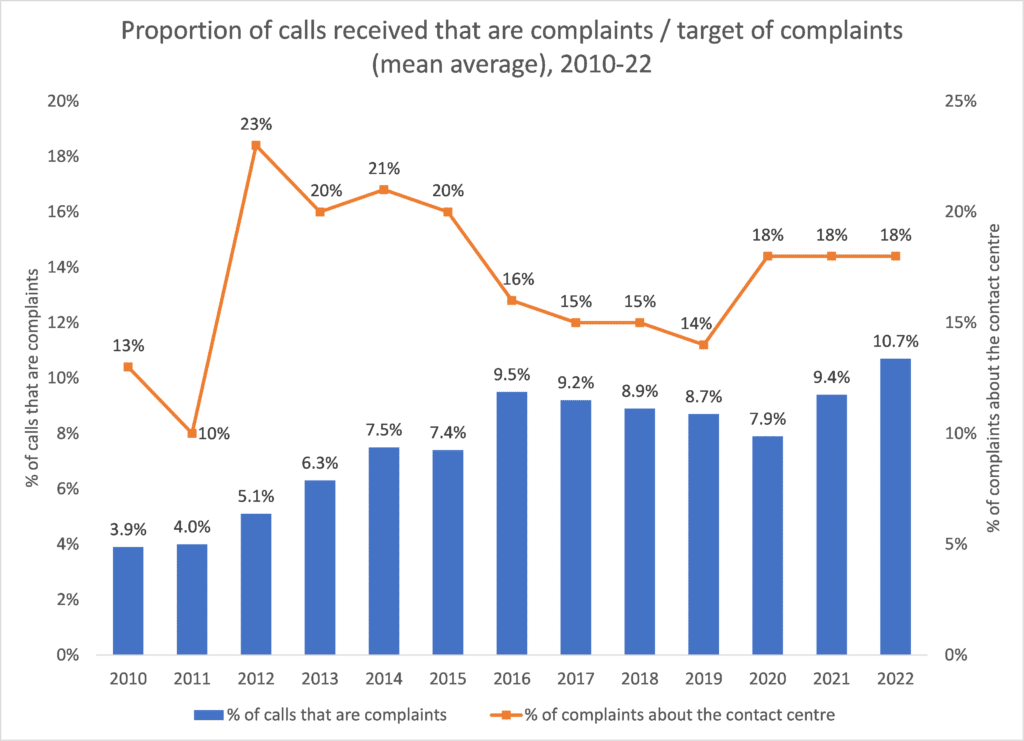 What do we learn from this data about the friendliness of call centre agents?
Poring over the aforementioned figures, it is clear that in every year covered, the target of a customer's complaint was normally the wider business having failed in some way, rather than the call centre or agent. It is interesting to see, however, that for the period from 2012 to 2015, a fifth (20%) or more of complaints related specifically to the contact centre.
On that measure, however, there isn't a particularly clear trend over time. What is immediately evident from the above chart, though, is an upward climb in the proportion of all calls that are complaints. Only 3.9% of calls were complaints in 2010, but by 2022, this had risen to 10.7% of calls.
Still, there are various factors that could explain that trend, such as businesses more frequently failing their customers, customers becoming more demanding, or customers increasingly using telephone contact in order to complain to organisations, instead of the more traditional letter.
What has emerged from our research down the years is that across every vertical market, the majority of the received complaints are not focused on the call centre itself, or its agents. Instead, it is generally "failure demand", caused by a breakdown of process somewhere else in the organisation, that is to blame.
However, with call centre agents having to "do the dirty work" of serving as the organisation's first point of contact with the upset customer, organisations need to be extremely conscientious to ensure an effective system is in place for receiving and dealing with complaints.
After all, if the customer has already had to experience the ill effects of a failure elsewhere in your organisation, you will not want further failings to occur in how your call centre handles the customer's related complaint. If that does happen, there could be a greater risk of the contact centre or agent themselves becoming a source of complaints.
So, how friendly and polite are the agents at a typical call centre?
You might have noticed from your reading of this article that we have not directly answered the question of how friendly and polite (or otherwise) call centre agents are.
The short answer to the question, is that it is not clear whether customers do actually generally experience polite and friendly agents. Our own experience at ContactBabel is that the vast majority of contact centre agents are indeed polite, friendly, and professional.
What seems to be beyond doubt, however, is that most complaints to contact centres are driven by factors outside the agent's control – albeit factors that the agent then needs to find a way to resolve.
Would you like to discover further insights into call centre operations, and the associated experiences of customers? If so, we make available a range of contact centre research reports that can be downloaded for free, including "The Inner Circle Guide to Agent Engagement & Empowerment", which draws upon the findings of polling of more than 400 UK and US organisations.