Call centre salaries were on the up in 2022 – especially for experienced agents
According to recently released contact centre research, agents working at such sites saw major increases in their salaries over the course of 2022.
In the case of new agents, the rise was reportedly 9.7%, although an even higher increase of 11.3% was reported for the salaries of experienced agents.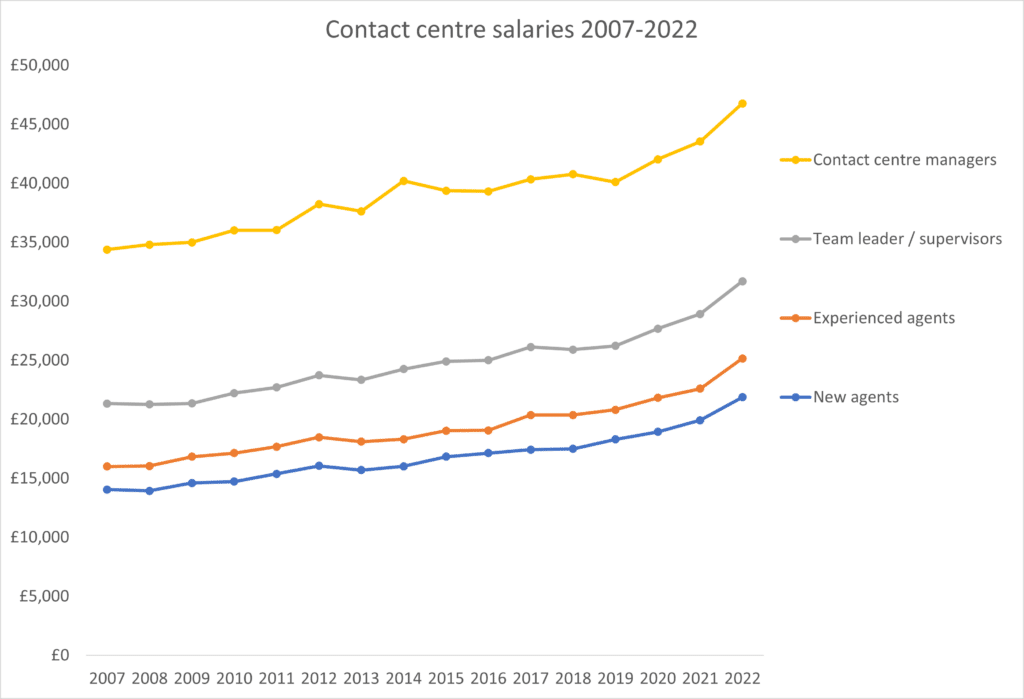 It is believed that such increases have been largely driven by inflation and competition for agents – who have many different options in the jobs market. It should be noted, too, that the National Minimum Wage (NMW) and National Living Wage (NLW) have also recently gone up, and contact centres have responded to this.
What else do we learn by drilling further into the figures?
Significant rises in contact centre salaries were seen across the full range of staff. Those operating at team-leader level, for example, saw their salaries increase by 9.6% on average, while respondents' average contact-centre manager salaries showed a rise of 7.4% in 2022.
These are approximately double the salary increases that 2021 saw, and it is likely that inflationary pressures were largely responsible for them.
As a consequence of such rises, the mean average salary of a new agent in 2022 was £21,876, while experienced agents earned £25,164, and team leaders/supervisors commanded a salary of £31,706 – again, taking the mean average figure. Contact centre managers, meanwhile, earned as much as £46,778 on average.
There were also interesting findings from the research by vertical market, with it being revealed that respondents' agents in the manufacturing sector were, again, paid the most during 2022. Those ranked among the lowest-paid on average were insurance, retail and outsourcing agents, although it should be noted that this only includes basic salary, and not the sales-related bonuses that are especially relevant to some businesses in these industries.
Considering call centre salaries by size band, it is usually the case that contact centres defined as "small" – those with fewer than 50 seats – tend to pay better salaries to agents than "large" contact centres, which are defined as those with 200 or more seats. This could be attributable to the fact that a small increase in the salary of each agent would equate to a big change in bottom-line costs for a larger contact centre. However, that gap has been smaller in recent years than the historical norm, and in 2022, it almost disappeared.
A quarter of respondents – 25% – also said they did not offer any bonus to sales-focused agents. At first inspection, this might seem slightly strange; however, deeper analysis reveals that such a reluctance to reward sales directly is principally confined to service contact centres, which account for the biggest proportion of the respondent base. All of the sales-focused operations actually did offer sales bonuses in 2022, but a mere 18% of service-oriented centres did so.
The relationship between agent morale and pay
Respondents also had 12 options put before them for improving morale, and were asked to choose the top three that they thought were most likely to improve morale (although it should be noted that this question did not ask the actual agents for their own thoughts on this).
The most popular, number-one choice was increased salaries, which sadly might not be a realistic option for most contact centres. Nonetheless, it is interesting to observe that there is a correlation between contact centre salaries and attrition (and by extension, morale). Contact centres that have less than 10% attrition over a three-month period pay new agents an average of 9% more than contact centres that have a three-month attrition rate exceeding 10%.
Looking beyond salary factors, the respondents believed that empowering agents to make decisions that help customers was very positive for morale; 41% of them placed this factor in their top three. Respondents also expressed a strong view that improving the technology available to support agents would also positively affect agent morale.
Would you like to read more of the latest contact centre research, touching on salaries and other human resources issues, to help guide your organisation's decisions? If so, here at ContactBabel, we offer a range of relevant documents and guides for you to download and peruse.